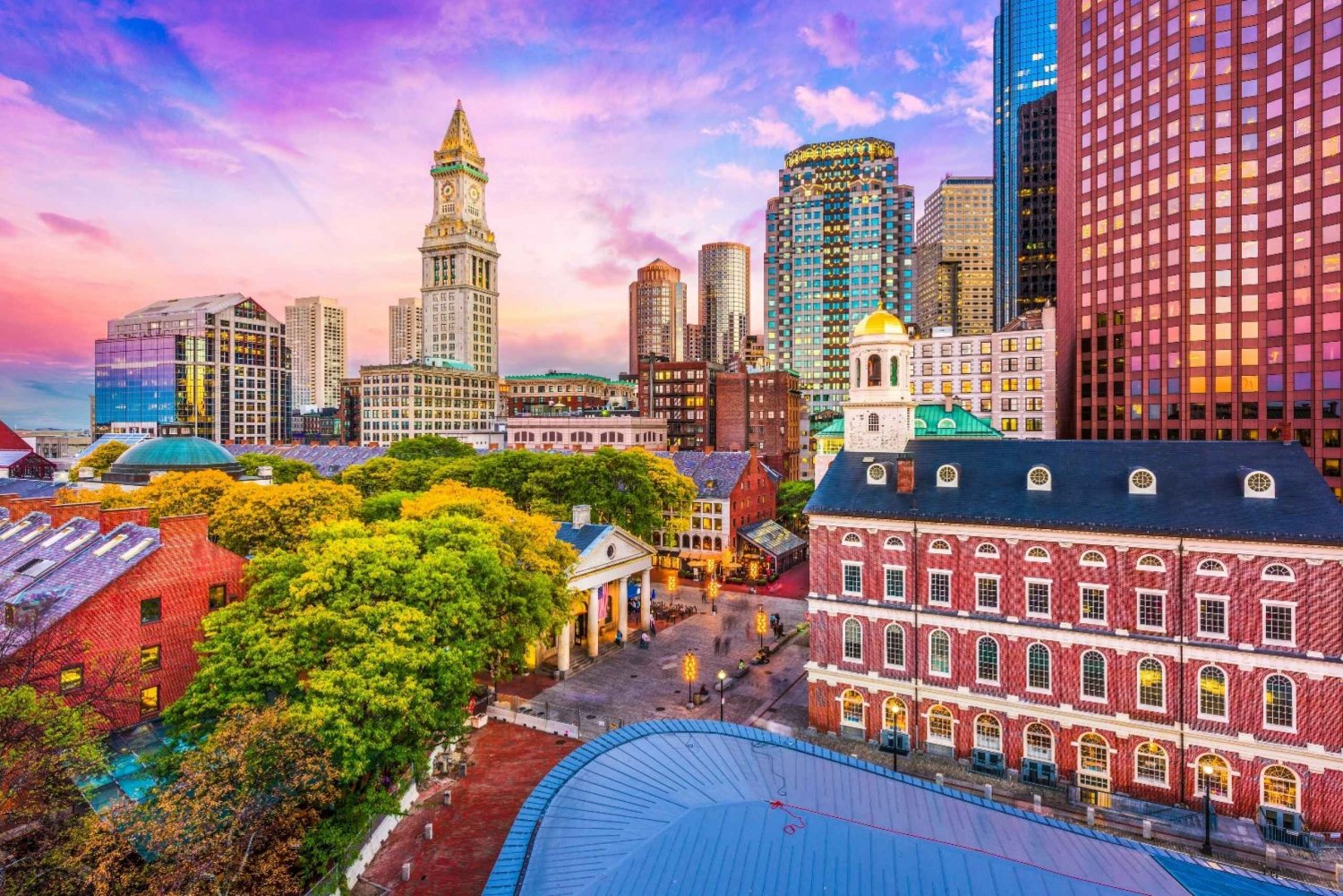 Event Details
Highlights
Discover Boston's fascinating Freedom Trail at your own pace
See iconic historical landmarks including Park Street Church, Massachusetts State House, and more
Visit the heart of Harvard University's campus in Cambridge
Explore Cape Ann's scenic waterfront
Unearth the haunting tales of the Salem Witch Trials
Description
Start in the city of Boston and walk in the footsteps of Revolutionary War heroes. Hear the story of Paul Revere's Midnight Ride and relive the fight for American Independence with a self-guided walking tour of Boston's Freedom Trail. Immerse yourself in the stories of the American Revolution, the Boston Tea Party, and the Sons of Liberty as you stroll along Boston's scenic Harborwalk. Uncover Boston's historic and storied past while enjoying its beautiful harbor views between South Station and Long Wharf. Then, travel to the city of Cambridge outside Boston and explore the heart of Harvard University's campus at Harvard Square. Use the app to take a self-guided walking tour that covers must-see campus sights like the John Harvard Statue, Widener Library, and former dorm rooms of famous alumni like Bill Gates, Mark Zuckerberg, Natalie Portman, and more. Next, discover Cape Ann with a self-guided driving tour along the scenic waterfront. Enjoy the vistas, beaches, and natural beauty of the New England coastline at your own pace. Visit the famous Fisherman's Memorial, beautiful Beauport, all while diving into the stories of Massachusetts of days past. Shifting the scene to Salem, begin at the Salem Visitor Center. Learn about the Salem Witch Trials at the dedicated memorial and the Old Burying Point Cemetery. Stop by historic spots like the Old Town Hall, the Joshua Ward House, and Gedney House. Marvel at the Witch House and end your tour at The House of the Seven Gables, immersing yourself in the haunting history of Salem's Witch Trials.
Includes
A link to download the Action Tour Guide app and a unique password for your tour(s). An audio guide, location-aware map, and storyteller — all in one mobile app tour. Our mission: To explore the world and its many stories. Join us! Excellent value: Buy only one tour per car. Don't hassle with "per person" bus tickets. Ease of use: Stories auto-play based on your location so you don't have to do anything once you've started. Offline map: Works without a cell signal or wifi once downloaded. Hidden gems: Visit often-missed spots and enrich your experience with little-known history. Flexibility: Explore at your own pace with no fixed schedule. Take a break, a hike, whatever, and pick up where you left off! No expiration date: Your tour is valid for life. Listen whenever, wherever, and however often you want. All-day support line: Call, chat, or email for help.
Important Information
This tour is a self-guided mobile app tour with a map, audio stories, and images.
Access the tour on the Action Tour Guide app (separate from the Get Your Guide app).
Use the unique password received after booking to download & preview your specific tours before you arrive.
Start at the Starting Point. Follow the tour route. All audio stories play automatically based on your location.
Flexible schedule: Use it on any day and at any time, or over multiple days. No need to rebook if your travel plans change.
Lifetime access: Use it on your next trip here! This tour never expires.
Walking tour: Use one tour per couple and share headphones.
Get support by calling, chatting, or emailing - all day long.
Easy cancellation
Cancel up to 24 hours in advance for a full refund