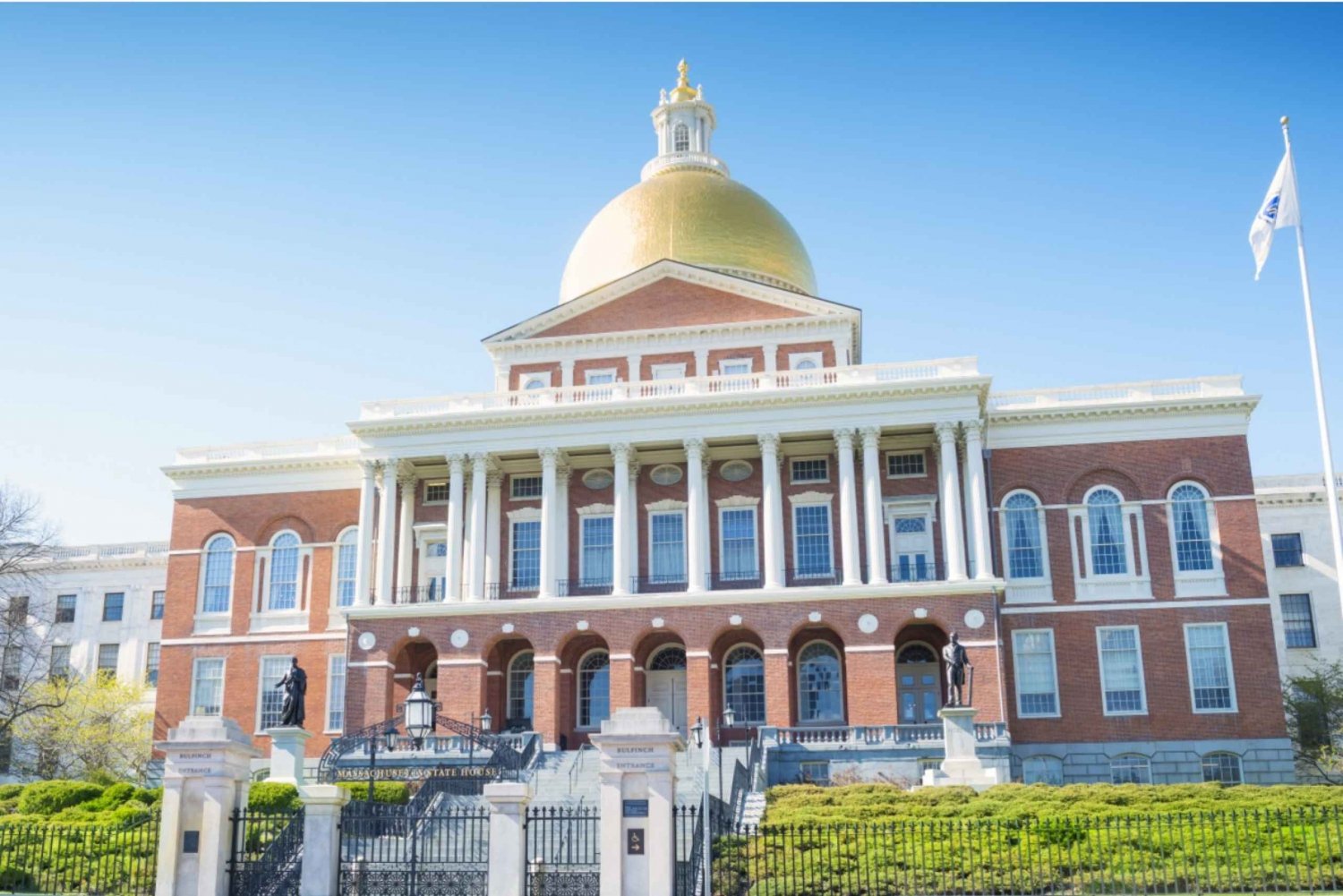 Event Details
Highlights
Discover the rich history of Boston's Freedom Trail at your own pace
Separate fact from fiction around the Boston Tea Party protest
Listen to a dramatic recounting of America's fight for Independence
Visit essential pieces of history like Paul Revere's Church
Relive the dramatic Battle of Bunker Hill with a bonus tour
Description
Start by downloading the Action Tour Guide app, which will function as your personal guide, audio tour, and map all in one. Purchase one tour per car, not per person. Everyone listens together! Once you've downloaded the tour, your journey will begin in the center of the city at Boston Common. Here, you'll turn back the clock all the way to the city's founding in the 1930s, then learn about the first murmurs of independence from Britain. You'll get to know the Stamp Act Riots, the Liberty Tree, and much more! Then you'll head to the historic State House (complete with a dome of real gold!) and find out about the time capsule placed there in 1795. On your way to the Park Street Church (a landmark loaded with history), you'll stop by the memorial to Robert Gould Shaw, famous for his role in a different war: The Civil War! Then, return to the 1700s and learn what led Britain to levy such harsh taxes against the colonies, as well as how those colonists responded. Then, at the Granary Burying Ground, you'll have the chance to visit graves of famous figures like Samuel Adams, John Hancock, and Paul Revere! After that is King's Chapel, the first Anglican church in Boston, which dates all the way back to 1754! Even older is the Latin School, up next, founded in 1635. Benjamin Franklin, Robert Paine, John Hancock, and Samuel Adams all studied here! Then it's on to the Old South Meeting House, where you'll get the many ins and outs of the true story behind the famous Boston Tea Party protest. Next is the Old State House, where the Declaration of Independence was first read to Bostonians! Then you'll head to the site of the infamous (and oft-misunderstood) Boston Massacre and get the truth behind that fateful night. Following a stop at the famed marketplace of Faneuil Hall (where you'll find just about any kind of refreshments you need), you'll see the beautiful Rose Kennedy Greenway. It may not be an official stop along the Freedom Trail, but this gorgeous urban park is well worth a look regardless! Continuing on, you'll get a great look at the historic Custom House, one of Boston's most iconic structures, before reaching Paul Revere's house, perfectly preserved since his famous Midnight Ride. Past that is the Old North Church, where Revere famously asked for "one lantern if by land, two if by sea." The next stop is almost impossible to miss—it's the USS Constitution! This enormous ship, nicknamed Old Ironsides, is enough to make the trip worth it all on its own. Here, you'll get familiar with some of the old warship's most nail-biting battles. Finally, you'll arrive at the Bunker Hill Monument, memorializing a pivotal battle during the Revolutionary War. Your tour concludes here, but there's lots more of Boston to see, including a bonus tour which dives deep into the Battle of Bunker Hill itself!
Includes
A link to download the Action Tour Guide app and a unique password for your tour(s). An audio guide, location-aware map, and storyteller — all in one mobile app tour. Our mission: To explore the world and its many stories. Join us! Excellent value: Buy only one tour per car. Don't hassle with "per person" bus tickets. Ease of use: Stories auto-play based on your location so you don't have to do anything once you've started. Offline map: Works without a cell signal or wifi once downloaded. Hidden gems: Visit often-missed spots and enrich your experience with little-known history. Flexibility: Explore at your own pace with no fixed schedule. Take a break, a hike, whatever, and pick up where you left off! No expiration date: Your tour is valid for life. Listen whenever, wherever, and however often you want. All-day support line: Call, chat, or email for help.
Important Information
This tour is a self-guided mobile app tour with a map, audio stories, and images.
Access the tour on the Action Tour Guide app (separate from the Get Your Guide app).
Use the unique password received after booking to download & preview your specific tours before you arrive.
Start at the Starting Point. Follow the tour route.
Flexible schedule: Use it on any day and at any time, or over multiple days. No need to rebook if your travel plans change.
Lifetime access: Use it on your next trip here! This tour never expires.
Walking tour: Use one tour per couple and share headphones.
Get support by calling, chatting, or emailing - all day long.
Easy cancellation
Cancel up to 24 hours in advance for a full refund
Save up to 20%

Reserve Your Experience

From $9.99

$7.99

Buy Tickets!